Body: Spray coating metal plate (Stainless steel body should add price)
Spare parts:

Plate heat exchanger
Adopting high efficient plate heat exchanger, it's a high efficiency of heat transfer. Doe to it's special struction, one line water. One line gas, make efficiency efficiency heat exchange. When the water quality is good, plate heat exchanger is the best selection.

Shell and tube heat exchanger
Shell and tube heat exchanger specialize in water source heat pump. It's feat are easy to wash and repair.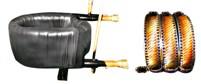 Double pipe heat exchanger
Make use of USA internal and external thread pipe technology, developing spring type serpentine pipe new structure condenser. It has a better transfer effect、a faster heat transfer speed, and can reduced scale, so have a long lifetime and reduced the maintain times.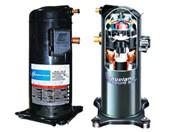 Compressor
Adopt world famous Copeland flexible Scroll compressor, have features like durable and long life、over current protection、miss phase、overheat protection、strong ability of anti-liquid impact、high and low pressure protection etc. Copeland compressor has pressure-release valve inside, automatically release pressure when in high pressure.
Circuit controlling system
Have project control function, easily controlling the circulating pump、water compensation、returning water、water supply、auxiliary electric heating、PID automatic defrosting. Users can setup different parameters according to different project demands and achieve a various water supplying solutions, making the whole system automatic.